Legal operations management
HighQ Government
Transform your department with an integrated legal operations hub
Streamline your legal operations in a single platform
Optimise and simplify the way your legal department works with HighQ. Our legal operations platform takes the hassle out of contract lifecycles, documents, managing services requests, matters, outside counsel, and more.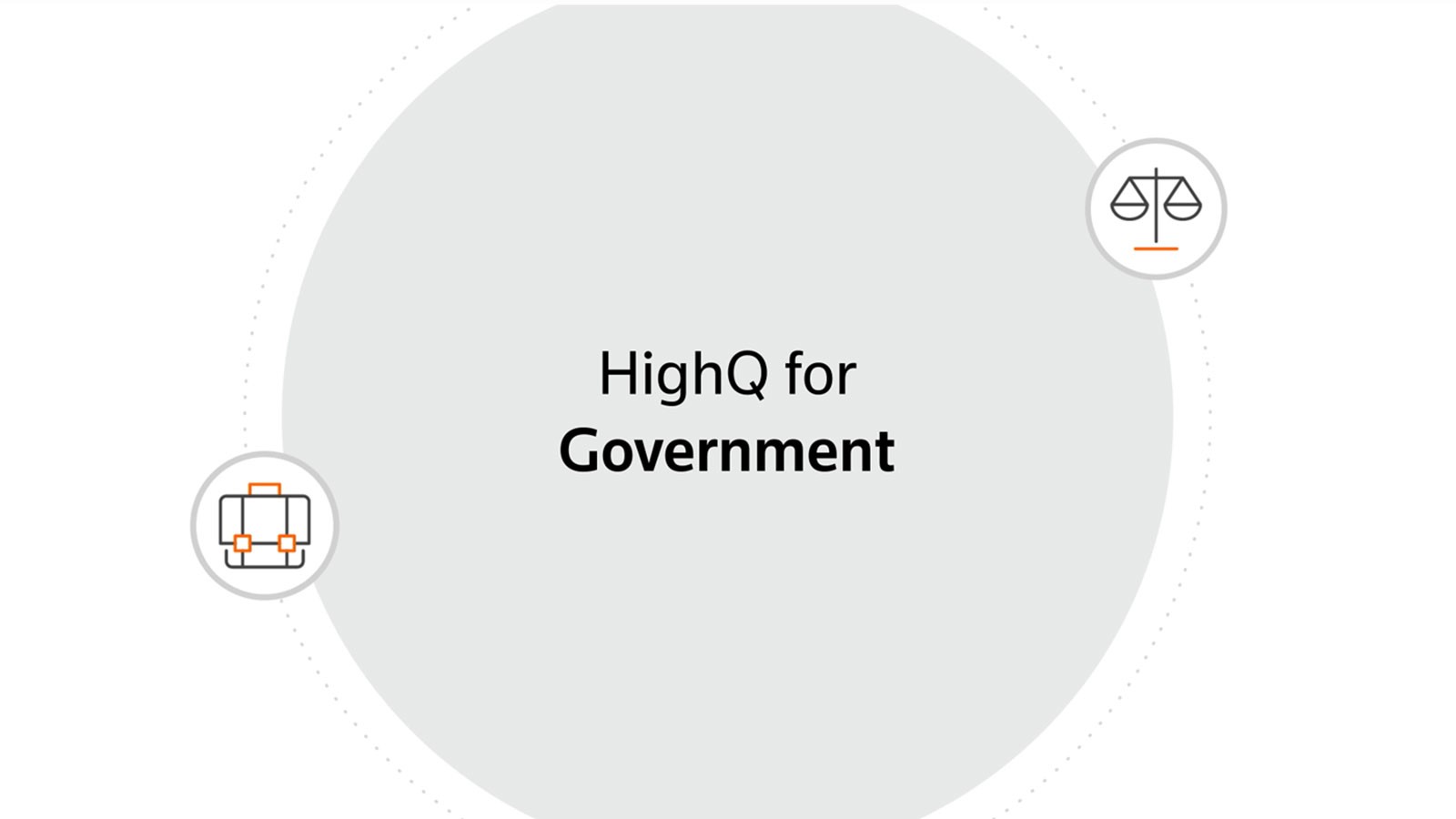 01:31
HighQ helps you tackle common challenges
Legal Request Intake and Matter Management
Many teams today struggle to manage and connect the intake process. Manual and time-consuming processes often result in errors and data falling through the cracks. HighQ can automate and streamline the matter intake process and ensure your information is organised in one central repository so you can capture everything that comes through your legal department with full visibility. Easily add a record from a common location; and automated, sophisticated workflows will assign the correct lawyer, send an email back to the requestor, and set up tasks based on the entry. In addition, you can easily run reports to view the information you need. HighQ simplifies and automates the entire process. 
Government legal departments often keep documents in multiple silos across devices and systems, making it difficult to locate and search. Documents cannot be securely shared, so collaboration is impossible. With HighQ, your documents will be in a secure, single location that you can easily search and retrieve anywhere. Audit and version history ensures that you have full transparency into who has been working on a document and that you are working on the most recent version of the document. Powerful permissions capability allows complete flexibility over who has access to documents, including individuals outside of the agency.
Government agencies are inundated with public records and FOIA requests. HighQ takes the laborious and time-sensitive process of responding to public records requests and turns it into a simple and efficient process using automated workflows. Using HighQ, requests can be made through a public-facing intake form. HighQ then takes the information and automatically sends it to the appropriate location and notifies the relevant parties. A folder is automatically created where the responsive documents can be stored, reviewed, and collaboratively worked on. Once the documents are ready to be produced, multiple documents can be auto redacted for confidential information and produced via a secure link. 
Government agencies frequently draft the same agreements, policies, or notices over and over. This is both inefficient and creates the risk of human error inherent with manual drafting. HighQ document automation provides a faster, more efficient, and more consistent way of drafting and completing documents. With HighQ document automation, a document that would normally take hours to finish can be done in minutes.
HighQ took what was quite an inefficient use of time and made it very efficient. It changed the way we do things.
Want to see HighQ in action?
See how HighQ can make your firm more secure, efficient, and innovative