Own your returns, process, and data with in-house Corporate tax software
ONESOURCE Corporate Tax gives you the ability to own your data while allowing flexibility in your business model to accommodate in-house tax compliance or co-source some of your tax compliance. Regardless of how you choose to staff your compliance function, you own your software, your process, and your data.
Thrive under increased pressure from the authorities and better evaluate exposure and risk with accurate and transparent reporting. Designed to face the challenges of tax reporting, with ONESOURCE you will have complete confidence you're always using the very latest information, using the very latest technology.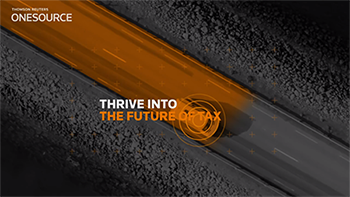 02:21
Prepare, review and file corporate tax returns with total accuracy, every time.
Enhance compliance. Optimise data. Elevate strategy
Build an end-to-end compliance process that can be tailored to suit your organization. Import data from multiple sources and carry out accurate tax accounting and multi-trade compliance calculations with ease.
Drive efficiency in your compliance process with advanced data technology; simple e-filing and automated electronic tagging free up time for thorough analysis and value-add activities.
Keep up with increasing demands of governance with a complete audit trail, and the ability to add review comments and notes with supporting evidence to your calculation.
Minimise the risk of making data errors with a streamlined approach to data collection that gives control and transparency, as well as flexibility and ensures total accuracy, every time.
Rely on trusted content developed by our highly experienced in-house team which is updated automatically via the cloud, so you always have the latest legislation.
Have the freedom to build a safe and secure tax process that works for you, using API enabled software which allows effective interaction with your existing systems.
The web-based platform enables your staff to work flexibly from any location with minimal risk, and reduces dependency on your internal IT teams.
Bringing tax compliance in-house with technology
Rahr Corporation filed returns 2 months in advance.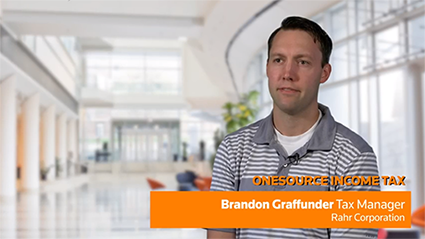 02:34
ONESOURCE works for us because it makes our job easy. We're not answering questions all day, and we're not spending countless hours trying to file the return.