Risk Management & Thought Leadership​
Risk, Fraud & Compliance ​

Reduce risk to your organisation – Inform the way forward

Let us solve your complex issues and deliver answers that no other company can​
In an interconnect world, companies have complex needs that cannot be fulfilled by any point solution. With a unique access to proprietary technologies that draw actionable intelligence from data sets as well as Intelligence, Data Science teams and Financial Crime experts - we provide clarity and the simple solutions to your complex problems.​
Your highly complex problems may include:​
Sanctions Monitoring Program​
Third-Party Risk Management (TPRM)​
Supply Chain Risk​
ESG Due Diligence​
Social Network Analysis/ INSIDER THREAT​
Geopolitical Risk Analysis​
Due diligence is now more important than ever, especially in a range of industries including: Wealth Management, Insurance, Casinos, Extractives, Commodities, Shipping, Energy, Pharmaceuticals, Automotive, Real Estate, Defence. ​ ​
---
We design the solution you need using the best of Thomson Reuters capabilities 
We listen actively and ask the right questions for clarity. This helps with the holistic research we'll carry out for you.​
Working in tandem – we frame your POV, USP and value proposition whilst looking for patterns, insights and opportunities.
Collaborating extensively with other propositions provides you with the best products and solutions for your problem.
Think big, think Enterprise. Learn pain points, monitor global, regional and local firepoints. Gather feedback and tailor to your needs.​
Speed and scale. Evaluate, gather the learnings and repeat the cycle.​
Meet the Asia-Pacific Risk, Fraud and Compliance experts
Learn about our renowned industry leaders and discover some of their world class thought leadership below.
Mark Nuttall CAMS CPP PMP
Director of Risk solutions Asia and Emerging Markets
Mark Nuttall is Director of Risk solutions for Thomson Reuters in the Asia and Emerging Markets region. With an extensive counter-crime and risk background and over 20 years' experience in global risk management, anti-financial crime, and international security, Mark is a renowned expert in his field.
Marks holds an MA in International Security, is a Certified Anti-Money Laundering Specialist (CAMS), Certified Protection Professional (CPP), and has managed corporate projects through his qualification as a Project Management Professional (PMP).

All the above is compounded by his professional expertise base as a risk, security, and geopolitics expert, as quantified by the Global Institute against Transnational Organised Crime (GI-TOC), and published works of academia.

As an active member of Singapore Institute of Directors, Mark offers his deep corporate understanding to peers and advises businesses on navigating complex supply chain and risk assessment ventures. He is a fellow and member of many other associations and institutes, both in terms of corporate activity, as well as security, geopolitics, military matters, and AML/Compliance, and so is well placed to advise on this basis.

Director of Risk solutions Asia and Emerging Markets
B.C. is an advocate on the use of intelligence, technology and data to more effectively uncover international illicit networks and safeguard our international financial system.
Currently a Director of Risk solutions for Thomson Reuters in the Asia and Emerging Markets region, B.C. had previously served the industry as Global Head of Trade Finance Proposition, APAC Head of Customer & 3rd Party Risk, APAC Head of Research, Global Head of Organised Crime Research for World-Check and more recently the Global Head of Data for a Regtech.
In addition to his expertise in the fields Anti-Money Laundering and Counter Financing of Terrorism; BC is specialist in transnational organized crime networks, illicit trafficking, proliferation financing, maritime security and human trafficking. He speaks regularly at a variety of workshops and conferences on these topics for both the corporate and government sectors.
Corporate Governance video series​
Mark Nuttall explains the biggest challenges that senior executives face today:
Ultimate Beneficial Ownership (UBO) - Growing regulatory focus
Mitigating Risk within an Organization - How to recognise and resolve internal risk
Environmental, Social and Governance (ESG) - The growing importance of ESG in compliance
Managing Commercial Relationships - Why detailed due diligence is now essential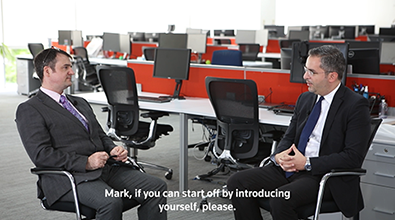 05:42
Take the next step with Regulatory Intelligence

Contact us today to learn more about how Regulatory Intelligence can keep your organization in touch with the constantly changing regulatory landscape